The curious people of wine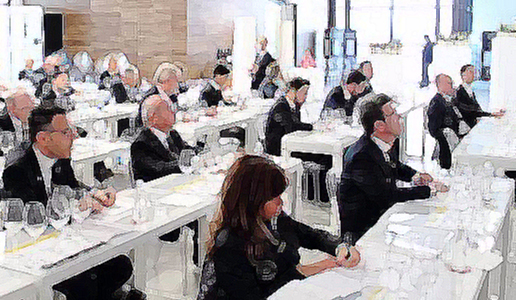 Going deeper into the subject we talked about yesterday, we see here which are the typical cathegories of people that go to wine tasting lessons.
Thanks to the education I received from Gino Veronelli I went on to teach hundreds of classes. When I taught 'tasting techniques' I found myself surrounded by all kinds of people. Just for fun I'll try to classify some of them for you.
The First of the Class
A classic figure who can also be found even in wine courses. He/she studies hard at home, is prepared, asks questions, always volunteers, opens the bottles and pours for the others in the class. These people run the risk that they will just memorize the terminology, apply it in an apparently perfect way but in the end will never really appreciate the quality of the wine they have in their glass. For them what is important is to do their homework.
The Professional
Not professional in regard to wine but people who hold a professional job: lawyer, doctor and so on. Men and women who are middle age and of clear middle-class background. They attend the courses as if they were at a meeting of the Rotary or Lion's Club, of which they are certainly members. Generally, they understand little about wine and justify this by the fact that they are experts in their own fields. They are old dogs who find it hard to learn new tricks. In the end they rarely complete their first course and drop out frustrated and suspicious.
The Crypto-alcoholic
In this case there is little to joke about. Unfortunately, among those taking the wine courses are people who have a problem, a difficult relationship with alcohol. You can spot them out because they are the ones who always finish all the wine in their glass and when the lesson is over they help themselves to any leftovers. For them the course is just an excuse to justify and gratify their problem. They really should not be taking the class and it would be best to convince them to deal with their problem in another way. But since they are not immediately recognizable they get in and it is always too late to intervene.
The Protestor
This is the person who is never happy, never satisfied. The guides are all corrupt, the great wines are not that great and the course instructors are frauds who need to be unmasked. The course, of course, is a ripoff, it costs too much, the wines are poor and the organizers make too much money. This person is unbearable, rude, believes their rights are getting trampled on. You all know they type, there is always one at a condominium meeting.
The Sector Worker
These are often waiters who have a passion for wine or who have been sent by their boss to learn something. On the rare occasion you can find the operator of a wine shop or a restaurant owner. These are the natural people who should be taking the sommelier courses but they are a dying breed. This in part because the lessons are difficult, more theoretical than practical, and a bit because the courses are not designed for them but for people who have little to do with the service of wine (something a sommelier should be an expert in).
The Fanatic
After just the second lesson this person already considers themself to be a great expert. They pontificate with their friends, who can hardly put up with them, but worse they torture waiters, sending back bottles for alleged and often nonexistent defects, asking for wines that are almost impossible to find, tasting their wines is a flashy way and then expounding their opinion out loud. For those of us who teach wine courses these are the most difficult pupils. They remain quiet during the lessons but then can't stop mouthing off once they leave. It is not unusual for us to get phone calls from irate restaurants and wine shops to complain about the absurd behavior of our students.
Related Articles