Commander Diego Molinari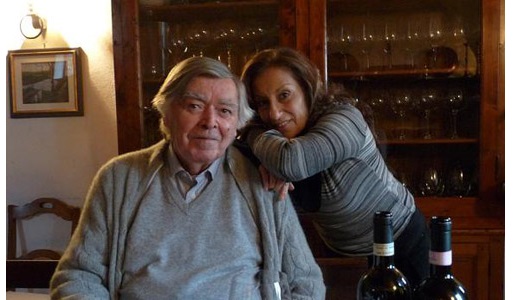 Riccardo Viscardi recalls the personality and teachings of Cerbaiona founder Diego Molinari several months after his passing.
In the space of 45 days I lost two friends I met thanks to wine: Francesco Piccin, who I have already written about, and Diego Molinari, a person to whom I owe a lot and over the years our friendship became fundamental for me and not only in regard to wine. Diego offered me a key to understanding the events and situations occurring around me. Each was different from the other and the solutions he suggested were always, and I mean always, the right ones. Sometimes I even hurt myself by not listening to him. I will always be grateful for two fundamental teachings he gave to me: the first was the "right time" and the second to "paint people".
He was not a talker, many would say he was an egotist and maybe that was true. But the time we spent together on the stonewall at Cerbaiona, often in silence looking out over the sea, towards Pienza, drinking "il" Coca Cola, had enormous importance for me. The sea because according, to him, looking at it allowed you imagine being beneath it with its surface becoming the sky. "Il" Coca Cola because he loved defining it the masculine tense and we loved to drink it together.
His egotism was grounded in rock-hard ethic principles, with a very clear conception of life and a ferocious determination that drove him from his native Pieve Morone, in the province of Pavia, to Rome and to be a pilot for Alitalia, after which he dedicated himself to wine with amazing success, becoming a reference point in Montalcino (where he was known as "The Commander" due to his past as a pilot).
Some of his vintages were unforgettable: 1985, 1988, 1990, 1997, 1999, 2001, 2004, 2006 and 2010. The latter was a masterpiece while his last vintage was 2011, after which he sold the estate at a very high price. This was a painful decision for him but there was no one in his family who showed any interest in his creation. He probably regretted it but it was the right decision. With him in this wine adventure was Nora, who he married late in life.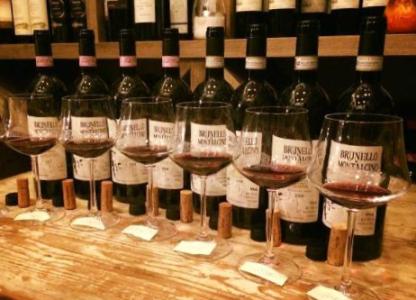 I would like to think that I learned a lot about Brunello di Montalcino from the seven harvests and vintages I worked with him on as an assistant. The "commander" was always in charge and he was always ahead of the others. How he could have such innovative ideas, without ever having studied winemaking or chemistry, no one will ever know. Perhaps he just had enormous talent, along with an outstanding determination and wine sensibility.
To wine lovers, he left his creations, his timeless wines with their unmistakable style. To Montalcino, he left a way to comprehend the territory and above all a rule: your best ally is the producer next to you. Proof of this was his wonderful friendship with Giulio and Mirella Salvioni as well as with the Mantengoli family, owners of the La Serena estate who helped him for years in the vineyard and who he convinced to make wine. Unfortunately, this concept, innovative yet classic in the world's great winemaking areas, has not taken root because the social fabric in Montalcino is weak. Unfortunately, being from and in Montalcino is not appreciated by all and sometimes the favorite pastime there is to talk badly about your neighbor or imply doubts regarding a rival's winemaking methods. Let's hope this pettiness will change with the new generation. This pettiness was also evident on his last day on Earth: the only producers at his funeral were Giacomo Neri (Casanova di Neri), Paolo Bianchini (Ciacci Piccolomini d Aragona), the Mantengoli family and Alessia Salvioni along with enologist Roberto Cipresso, Marta Ripaccioli and Maurizio Botarelli of Valoritalia. Not very many considering the number who showed up for Diego's 80th birthday party. A sad day for Montalcino with members of the Brunello producers' association ominously absent at the funeral.
Many producers have always asked me how he could make those magnificent Brunello wines (as well as some exceptional Rosso di Montalcino). Some thought it may have been my contribution in certain choices. I would have been proud to say it was but it wasn't. The wines were a product of Diego's sensibility and Nora's nose. How were they created? The Brunello grapes were only those from the lower part of the vine and the selection of the vines to harvest was meticulous. It was only in 1990 that he went straight to harvest, normally finding signs in the vineyard of where to stop and start. The grapes were hand-picked and the baskets could be no more than ¾ full with no leaves among the grapes. They were then put into cement vats, without any temperature controls or the addition of select yeasts. Fermentation began after a couple of days at most. The paddling depended on the quality of the harvest and care was taken to avoid punching the caps The period of maceration depended on the harvest, the temperature and humidity of the air.
The period maceration became shorter over the years but was never less than 15 days and never more than 20 and always depending on the harvest. Brunello Cerbaiona was known to be a bold wine with a propensity to age long. While this is true, only twice did they surpass, by little, 30g/l of extracts, in 1990 and 1997. Diego told me the 2003 and 2007 wines also reached that threshold but he did not like the result at all. Nora said that in these cases the nose did not purr (she was an avid cat lover, ed.note) and she was right.
When the "right time" had passed, the grapes are pressed, preferably with the right moon phase and rigorously at night or on a cool day. The wine is then transferred into 25 and 30hl Gabellotto wood vats, also because there is no room for bigger ones. They have to be oval and at most seven years old for the Brunello. The new ones came later and the changeover never too place at the same time. Usually, two vats of Brunello were made, the period of maturing varied but was never less than 30 months, even after the changes in regulations governing winemaking.
For many years the wine was bottled from a truck and the cork inserted by hand. Then in 1992 a bottling machine was used which took some of the fun out of it but made things easier. As you can see, there were no secrets, or perhaps there were some small one for those who can see, but only a very innovative approach.
Diego has two great friends to thank: Giulio Gambelli who was there from the start, and, in in this new century, Valero Coltellini, an enologist and man of great qualities. Ciao Diego, I did not tell everything, but since they weren't there, it useless to remember experimenting with the 10hl barrels.