Spaghetti allo Scarpariello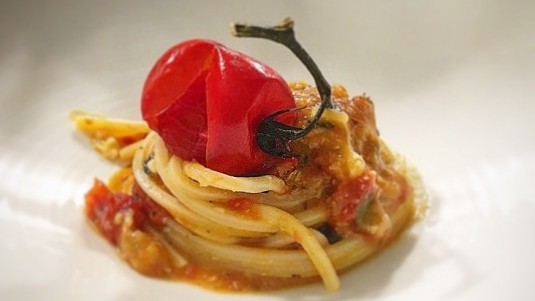 Scarpariello is a simple and traditional dish in Neapolitan cuisine and its name derives from the old custom of dipping bread into the pasta sauce, also known scarpetta (shoeing).
The sweetness of the tomato, the flavor of the cheeses and the aroma of the olive oil and basil are the simple ingredients for this quick recipe that will win over any palate. Just to be provocative, we suggest pairing it with a wine from another area: the sparkling Rosé de Noir Brut from Cleto Chiarli.
Ingredients for 4 people:
350g of craft, bronze wire-drawn spaghetti, 1 can of peeled tomatoes from Vesuvius, 2 cloves of garlic, 6 tablespoons of extra-virgin olive oil, salt as needed, fresh basil leaves, 50g grated pecorino cheese, 100g grates Parmigiano and crushed red chili pepper as desired.
Directions:
Sauté the garlic in hot oil in a large pan. Add the tomatoes and salt and cook for around ten minutes. In the meantime boil the spaghetti until it is al dente (slightly undercooked) then drain and add it to the pan with the sauce and continue to cook at a low heat.
Add a ladle of the water used to boil the pasta before mixing in the cheeses. Turn off the heat and keep mixing the spaghetti until the sauce has a creamy consistency. Spread the basil leaves on top and, if you like, some red pepper.
Wine to pair:
Rosé de Noir Brut Cleto Chiarli
Lively froth, violet-shaded rosé color, fine and abundant perlage. Intense and fruity scent of strawberries and raspberries. Lively round and neat taste with feelings of wild berries.
Production area: Chiarli family owns three agricultural estates, located in the most important areas for classical Doc Modena wines, more then 100 hectares of vineyards.
Grape varieties: Lambrusco Grasparossa.
Wine making: soft pressing with both whole or stalk-less grapes at a controller temperature and with selected yeasts added. Pris de mousse in cuve close at a low temperature.
Alcoholic content: 12% vol.
Serving temperature: cool (8°-10° C.)
Suggested food pairing: excellent as an aperitif, and ideal for elegant dinners; it also goes very well with desserts, strawberry and fruit salads.