Recepit, a rosé made from Guarnaccino Nero grapes by 600 Grotte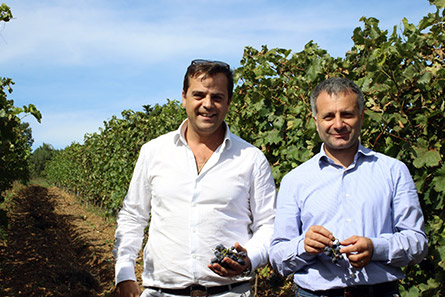 The number 600 refers to the number of caves carved under the hamlet of Chiaramonte and 600 Grotte is the name of the winery that produces this rosé from Guarnaccino Nero grapes.
Chiaramonte is a hamlet inside the Pollino National Park that sits on a cliff overlooking the entire valley. Chiaramonte is known for its artistic treasures as well as for its interesting wine and food. Aside from the cold cuts, the fusilli pasta (served with sauce and fried bread on top), the mushrooms and the pepite d'oro (golden nuggets) di Serrapotamo truffles, I strongly suggest you try Chiaramonte wines which are the product of centuries of tradition. The 600 caves carved under the town date back to 1300 and were once used to age wine because of their excellent natural climate conditions.
600 Grotte (Caves) is also the name of a winery that has brought back a local native grape: Guarnaccino Nero. The estate's three partners, working with the University of Basilicata, began researching the varietal in 2006 using the few clones remaining. Studies found that Guarnaccino Nero had a previously unknown molecular structure and in 2013 the varietal was officially recognized placed on the national grape variety register.
Guarnaccino Nero is a precocious grape (veraison begins at the beginning of August) that is fertile and vigorous and one of its distinctive traits is that is does not need to be treated with chemical products because it is resistant to most vine diseases. It also has an excellent balance between the acidity and pH which allows it to macerate and age long. The rosé 600 Grotte makes with it is very interesting.
600 Grotte
Owner : Giuseppe Crescente, Luigi Lauria, Vincenzo De Santo
Contrada San Pasquale
85032 Chiaromonte (PZ)
Tel. +39 0973 642278
Fax. +39 0973 642278
info@600grotte.it
www.600grotte.it
Facebook : 600grotte
Year of foundation: 2014
Total bottles produced: 15.000
Hectares of vineyards : 5,5
Prodotti Correlati