Ziti Genovese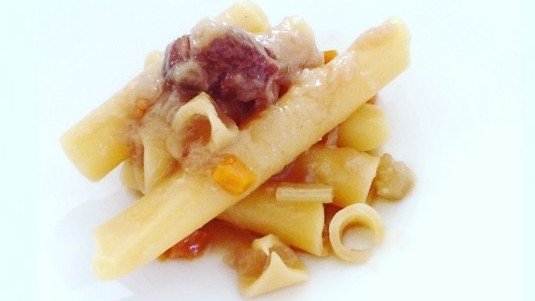 Genovese is a Neapolitan dish of uncertain origin. Some say the name genovese refers to a recipe that sailors from the ship Superba brought with them when they landed in Naples in the 18th century. The name aside, genovese is an exquisite dish that must be cooked very slowly and prepared ahead of time and left to cool. When it is re-heated the sauce becomes a dense concentration of juices and aromas. Together with ragù– another Neapolitan recipe that we will offer at a later date – this dish merits attention and respect. In fact, some fervent Catholic families cross themselves before eating it.
Ingredients for 6 people:
600g stew meat, extra-virgin olive oil, 1 celery stick, 1 carrot, 1.5kg coppery Montoro onions, 1 laurel leaf, salt as needed, dry white wine, 500g bronze wire-drawn ziti pasta broken by hand and grated Parmigiano as needed.
Directions :
Heat about an inch of olive oil in a pan with high sides and add to it the meat that has been cut into pieces and de-nerved, the carrot and celery that have been cut into pieces and cook for a couple of minutes. Add the onions that have been finely sliced and a half a glass of white wine, salt and laurel leaf. Cover and stew for around four hours, stirring occasionally.
After four hours the sauce will have become thicker and the meat soft. If the sauce is not thick then reduce it without the cover.
Boil the ziti until they are 'al dente', drain and put them into a large pan adding the genovese sauce but not the meat that must be kept aside. Cook the pasta and sauce together for a couple of minutes to ensure the starch from the pasta blends in well with the sauce. Add Parmigiano and pepper.
Serve accompanied by the meat that has been kept warm.
Wine to pair:
I Sodi del Paretaio Chianti Riserva Docg Badia di Morrona
A Chianti Riserva from Pisa hills, a fresh appellation area that guarantees good aromatic characteristics to wines. Ruby red color, a pleasurable freshness to the nose, with notes of red fruits. Soft and pleasurable to the palate as well, with ripe tannins and harmonic taste.
Production area: Terricciola, in Pisa province.
Grape variety: 100% Sangiovese.
Winemaking system: selected grapes from the best vineyards and 18 months ageing in 26 hectoliters oak barrels.
Alcoholic content: 13,5% vol.
Serving temperature: 18°C.
Food pairing: ideal with salami and other cuts, red meat and game, can be paired with pasta dishes of a certain complexity.