Spaghetti with asparagus and provolone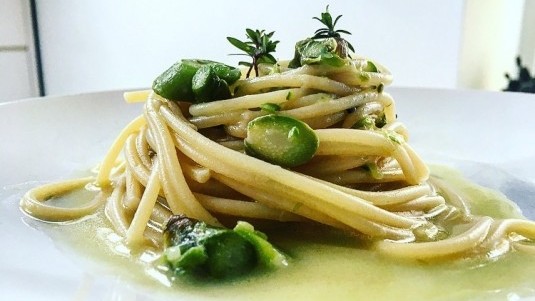 A spring dish to enjoy with Vich Sauvignon Lavis
Ingredients for 4 people:
350g spaghetti, 1 bunch of asparagus, 100g dried buffalo mozzarella, 100g semi-aged provolone del Monaco cheese, 1 spring onion, 3 tablespoons extra-virgin olive oil, thyme, chives, salt and pepper.
Directions:
Clean and then cut the asparagus into pieces then boil for around five minutes. Drain the asparagus and keep the water used for boiling aside.
Finely slice the spring onion and sauté it in two tablespoons of oil then add the asparagus, salt and a ladle of the water sued for boiling.
Cut the mozzarella into cubes and then melt it bain-marie with trickle of olive oil. Blend the cheese into a cream and if necessary add a few tablespoons of the asparagus water.
Boil the spaghetti to half the recommended time, drain and add it to the pan with the asparagus and continue cooking it as if it were a risotto, adding asparagus water from time to time.
Once cooked, put the spaghetti into a large bowl and mix in grated provolone, thyme, chives and pepper.
Spread out some of the warm mozzarella cream on each plate, add the spaghetti on top and serve.
Wine to pair:
Trentino Doc Vich Sauvignon Lavis
Selections from Cantina Lavis stem from the wine zoning project that has represented the Cantina's underlying philosophy for over 30 years. These unique wines are products of excellence grown in selected areas, in particularly suitable vineyards. This Sauvignon is the best expression of the typical zones where these vines are grown. Straw-yellow in color. To the nose, it is initially complex, although not pungent, with notes of gooseberry, mango and sliced exotic fruit, predominantly pineapple. The taste is savory, almost salty. The lingering acidulous core accompanies the entire tasting experience. The firm harmonious structure leaves a flavorful note of exotic fruit and green mint in the finish.
Production area: Giovo and Meano, vineyards are located at 400-500 m a.s.l. with a West, South-West exposure. Soil composition is sandy loam with porphyritic lithology and structured clayey soil.
Grape variety: Sauvignon blanc, training system is Guyot and simple Trentino pergola, planting density 4,500/5,500 vines/hectare.
Wine making: manual harvesting around late September, soft pressing, fermentation in stainless steel tanks and French oak tonneau, ageing on the lees for approximately 10-12 months before bottling, and further ageing in the bottle for a minimum of 6 months.
Serving temperature: 12°C.