Spaghetti nest with prosciutto and zucchini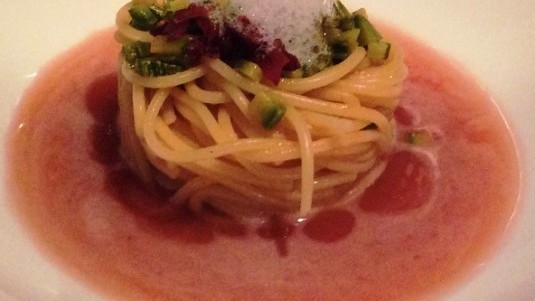 ...on a beefsteak tomato broth with basil foam
CHEF MATTEO GIUDICI
Ingredients for 4 people:
400g spaghetti, 100g San Daniele prosciutto, 2 Roman zucchini, 1kg ripe beefsteak tomatoes, 1 garlic clove, ½ a chili pepper, extra-virgin olive oil and salt as needed.
For the basil foam: 6 basil leaves, 200ml water and 2g soya lecithin.
Directions: Cut the prosciutto into stripes and fry in a broad pan until they are crispy. Drain off the excess fat and place aside. Cut the zucchini into small cubes and sauté them in the prosciutto fat.
Cut the tomatoes into pieces and blend them in a mixer with a pinch of salt. Place a colander covered with a cloth over a bowl and then pour the purée into the colander and press it delicately in order to collect the water from the tomatoes in the bowl for the broth.
Bring a pan of water to 90°C and then add the basil leaves. Let the leaves brew for 15 minutes and then filter the infusion and cool. Add a pinch of salt and the lecithin to the liquid and blend with a mixer in order to obtain a consistent froth.
Boil the spaghetti in ample water until it is 'al dente'. Warm up the tomato broth and salt to taste.
Trickle some extra-virgin olive oil into a pan and fry the garlic clove that has been divided into two together with the chili pepper. Remove the garlic and chili pepper and add in the drained spaghetti and cook until soft, adding a ladle of tomato broth.
Put some tomato broth at the bottom of a bowl, add the spaghetti wrapping it around a big fork and using a ladle, then sprinkle on top the zucchini and crispy prosciutto. Top with a tablespoon of basil foam and a trickle of extra-virgin olive oil.
Wine to pair:
Vecchia Modena Premium Lambrusco di Sorbara DOC Cleto Chiarli
From the oldest Lambrusco producer (the winery was born in 1860) a Lambrusco di Sorbara that is light red with great effervescence. Strawberries and violets on the nose, good acidityand hint of spices on the palate. Fragrant and crisp, easy to drink.
Area of production: owned vineyards in the Lambrusco di Sorbara denomination area, in Emilia-Romagna region.
Grape varieties: Lambrusco di Sorbara.
Winemaking method: light maceration, drawing off and fermentation at a controlled temperature of 20° C. Slow second fermentation (Pris de Mousse) in 'cuve close'. The entire production is made in the new cellar in Castelvetro, where Chiarli makes its premium wines.
Alcoholic content: 11%
Service temperature: 10-12° C.
Food pairings: pasta, tortellini, boiled meats and typical cuisine from Modena.
THIS RECIPE IS OFFERED BY CLETO CHIARLI