Soffritto napoletano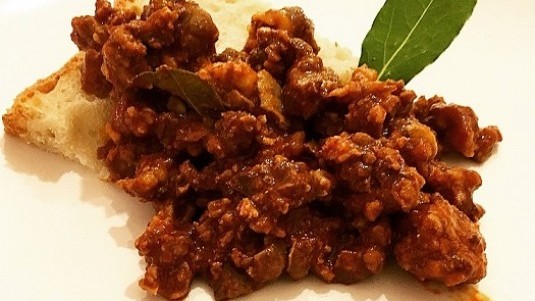 Soffritto or zuppa forte (strong soup) is a very flavorful Neapolitan dish. It is a soup/sauce made using pork offals cooked with tomato paste and spicy red chili pepper. This is a 'peasant' recipe born from the need to utilize what was discarded when butchering pork or beef.
Traditionally, it was made by butchers and sold by them to their customers. Once home, all one needed to do was warm it up with a little water and use it as a spaghetti sauce or, even better, spread on top of freselle (dried donut-shaped bread) with fennel seed or bread baked in a wood oven. Soffritto is not difficult to make at home with the advantage that one can select their own offal meats.
Ingredients for 6 portions: 
1kg pork offal that needs to soak for around a day, 200g tomato paste, 50g tomato sauce, 100g of lard or as an alternative 50ml of extra-virgin olive oil, 1 strong chili pepper, 1 garlic, 3 laurel leaves and salt.
Directions :
Sauté the garlic, laurel and chili pepper in a hot pan with the lard (or in the olive oil). Add the offal that has been rinsed and dried and brown for a few minutes.
Remove the garlic, add the tomato paste and sauce and lower the heat. Salt to taste and cook for around two hours, making sure the sauce does try out too much.
Serve with slices of bread.
Wine to pair: 
Berardenga Chianti Classico Docg Fèlsina 
Ruby red with deep intensity and hue. Delicate floral notes but intense and fascinating, forest fruits, light rustic notes and eucalyptus. Fresh palate, dynamic and with a wonderful depth.
Production area: the vineyards are located in Castelnuovo Berardenga, in the southeastern part of the Chianti Classico appellation, to the southeast of Siena. Almost exclusively with a southwestern exposure, they sprawl across ventilated slopes at an altitude ranging from 320-420 meters above sea level. Geologically, the terrains are mixed: in the higher parts the soil is predominantly rock quartz and calcareous alberese mixed with alluvial pebbles; strataform sandstone and loam characterize the vineyards on the edge of the Colli Senesi in the direction of the Crete Senesi.
Grape variety: 100% Sangiovese, bilateral cordon training system and simple Guyot with a maximum of 5-8 buds per vine. Vineyard density is about 5.400 vines per hectare. From the selection of vineyards in the seventies – eighties were conducted thorough investigations to identify the parent plants most suitable for the construction of grafting and replanting took place between 1990 and the early 2000s.
Wine making: harvest staggered due to different altitudes of the vineyards, within the first three weeks of October. After the quality-selected clusters are de-stemmed and pressed, the must is fermented and macerated in stainless steel for 12-15 days at 28-30°C, with programmed punchdowns and daily pumpovers. In spring the new wine goes into medium-size Slavonian oak barrels, and a small percentage into twice and thrice used oak barrels; after 12 months of maturation, the final blend is assembled, bottled, and ages in glass a minimum of 3 months.
Serving temperature: 16-18°C.