Pizza with scarola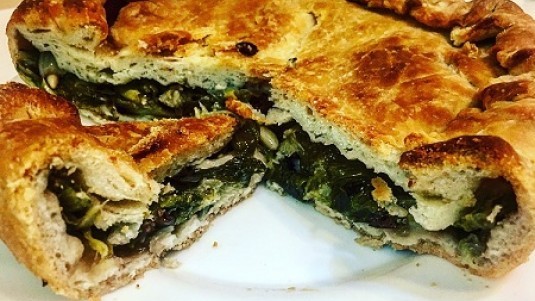 Pizza with scarola (escarole-endive) is a true must of rustic Campania cuisine. Here we suggest pairing it with Passerina Villa Angela from Velenosi Vini.
One of the tastiest pizzas in traditional cuisine, this can be eaten hot or cold, as a snack, a starter or as a meal in itself.
What distinguishes pizza di scarola is the perfect harmony between its various ingredients and flavors. In order to exalt this characteristic, we suggest you consume it a day after it has been made, when all the components have come together.
Ingredients:
500g bread dough made with 70gr of extra-virgin olive oil or, for traditionalists, 100g of lard, 1kg smooth endives, 1 heaping tablespoon of pine nuts, 1 heaping tablespoon of sultana raisin, 1 tablespoon of Pantelleria capers, 100g desalted anchovies, 100g Gaeta black olives and salt as desired.
Directions:
Soak the sultana raisins in a bowl of hot water.
Pit the olives and desalt the capers.
Prepare the dough with flour, salt and oil – or lard – as you usually would. Let the dough rise until it has doubled in size.
Break apart the endives and rinse the leaves under running water and then lay them on a drying cloth breaking the leaves in half with your hands.
In a large bowl add the raw endives, a trickle of extra-virgin olive oil, the anchovies that have been broken into pieces, the pitted olives, pine nuts, capers and salt. Mix everything together and they let sit for around 30 minutes to let the endives wilt naturally without cooking.
Divide the dough into two and roll the first half with a pin into a disc that will fully cover the bottom of a 25c- round pan that has been oiled.
Cover the disc with the filling mix and then over it with a second, equal-sized disc of dough and oil it on the top. Bake at 220°C for around 30 minutes.
Wine to pair:
Villa Angela Marche Igt Passerina Velenosi Vini
Passerina is an ancient variety originates in the Adriatic area. Its name (Passerina means small sparrow) might come from the shape of its small bunches with wings that resemble a small sparrow. Bright yellow color with pale golden hues. Floral hints of linden and hawthorn with fruity notes of crispy pome fruits, especially of pear, citron and ripe grapefruit. Fresh and smartly tangy, this wine is enthralling and dynamic.
Production area : winery's own vineyards located in Ascoli Piceno at 200-300 meters above-sea-level on medium texture tending to sand soils.
Grape varieties: Passerina monovarietal, Guyot trained with a density of 5.000 plants per hectare.
Harvest : hand-picked in mid-September, early in the morning or late in the afternoon, grapes are placed in small trays and kept in cold cells before being taken to the winery.
Wine making: soft crushing of the grapes immediately followed by a drop in temperature to favor decanting and removal of the floating substances in the must. Fermentation takes place in temperature controlled steel vats between 13° and 15°C and the wine is left ageing until February of the year following the harvest, in thermo-controlled steel vats providing a constant temperature of about 10°C in order to preserve the aromas.
Serving temperature : 10°C.