Picanha and herbs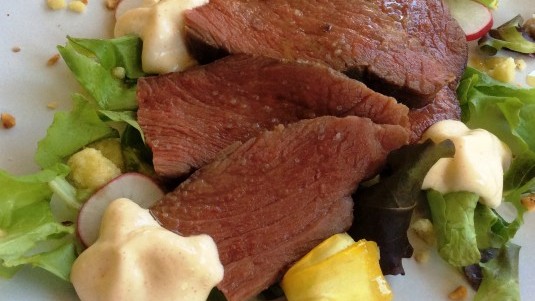 with a pink mayonnaise whip and smoked oil crumble
Ingredients for 6 people:
1.2kg picanha (or similar beef cuts), springs of fresh herbs (sage, rosemary and thyme), 2 tablespoons of extra-virgin olive oil and Algarve Fleur de sal.
For the marinade : 1l water, 60g fine salt, 40g sugar, ground black pepper, 1 tablespoon sweet paprika an 6 slices of fresh ginger.
For the mayonnaise whip : 86 sparkling water, 1 whole egg, 150g corn oil, 50g extra-virgin olive oil, 1 tablespoon cider vinegar, 5g lemon juice, 1 teaspoon Dijon mustard, 1 tablespoon sweet paprika, 3g xanthan gum (optional), salt as needed and a siphon gas charge.
For the smoked oil crumble (optional ): 100g extra-virgin olive oil, 60g maltodextrin, 1 laurel leaf, aromatic herbs as desired and cracked pepper.
Directions:
Prepare the marinade by dissolving the salt and sugar in warm water. Add the ground pepper, ginger and paprika, mix well and let cool. Remove any nerves in the picanha and put it in the marinade and let soak in the refrigerator for at least 24 hours.
Remove the meat from the marinade and braze in a hot skillet, searing all sides, and then put the meat in a slightly oiled pan and bake at 180°C for around 20 minutes with the aromatic herbs. Once done let the meat sit on a grill for around 10 minutes.
Preparing the mayonnaise: in a mixer cup put the oil, mustard, paprika, xanthan gum and blend for 30 seconds. Add the whole egg, vinegar, lemon juice, a pinch of salt and blend again raising and lowering the blender. Dilute the mayonnaise with the water and then put it in a 500ml siphon loaded with a gas charge and keep it upside down in the refrigerator until you are ready to use it.
Aromatizing the oil for the crumble: put the oil in a bowl with the cracked pepper and all the aromatic herbs. Cover the bowl with plastic wrap and zap for 20 seconds in a microwave three times with intervals of 10 minutes to ensure the oil does not fry. If you have a cold smoker, once the oil is cold cover it with plastic wrap and smoke it with the essence of choice. Allow 10-minute intervals between smoking. Filter and put the oil in a deep pan, add the maltodextrin and cook at a low heat, stirring constantly until the crumble is created and all the oil absorbed.
Cut the meat into thin slices and serve on a bed of fresh greens. Sprinkle the meat with Algarve fleur de sel and trickle some extra-virgin olive oil on top. Decorate with tuffs of mayonnaise whip and the crumble.
Wine to pair:
Vigna del Cristo 2015 Lambrusco di Sorbara Secco Doc Cavicchioli
Vigna del Cristo is a special wine that is delicate yet distinct, loyal to tradition, but also modern. It is bright ruby red in color with violet hues, light pink evanescent froth and fine and persistent perlage. Its aroma offers intense fruity (strawberry and red orange) and floral (violet) sensations, with a broad and embracing flavor and a pleasant hint of acidity.
Production area: 20 km north of Modena, in the Sorbara district, in the Cristo locality, at 200 meters from the banks of the river Secchia.
Grape varieties: 100% Lambrusco di Sorbara grown in a 5-hectare vineyard on fertile sandy soil.
Production system: after the alcoholic fermentation with selected yeasts and for about 10-15 days at a temperature of 15-18°C, followes the second fermentation of the long Charmat method for about 4-5 weeks at a temperature of 13-15°C.
Alcoholic content: 11% vol.
Serving temperature: 12°C.
Food pairing: charcuterie, pasta dishes with complex sauces and rich condiments, red meats and fish. Excellent with fried fish and vegetable dishes.
THIS RECIPE IS OFFERED BY CAVICCHIOLI