Merry Christmas Pudding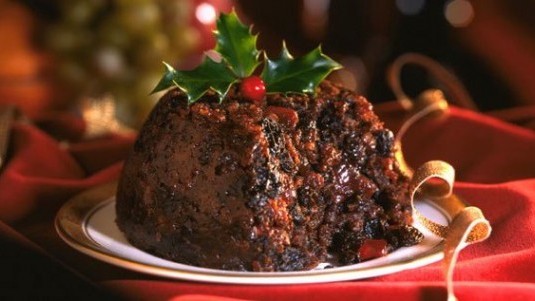 Ingredients :
50g almonds, roughly chopped, 450g raisins, sultanas and currants, 200g dried apricots and dried figs, chopped, 150g candied citrus and orange, 50g glacé cherries, halved, 1 medium carrot, peeled and finely grated, 250ml of fortified red wine, 300g brown sugar, 300g fresh white breadcrumbs, 200g self-raising flour, 1 tsp each mixed spice, ground ginger and grated nutmeg, 1 apple, grated, 1 orange and 1 lemon, juice and zest, 250g butter, frozen, 4 eggs, beaten
Butter, for greasing
Holly sprig, to decorate
Directions :
Mix the almonds, raisins, sultanas, currants, apricots, figs, cherries and candied with the wine in a large mixing bowl. Cover and leave to soak overnight.
The following day, mix all the dry ingredients together (sugar, crumbs, flour and spices), add the grated apples, orange and lemon juice and zest and stir. Add to the soaked fruit mixture. Grate in the butter, then add the eggs and stir.
Butter a big pudding basin, spoon in the mixture, press down well and make a hollow with the back of the spoon in the centre.
Cut two circles of greaseproof paper to cover the top of the pudding, fold a pleat down the centre to allow pudding to expand.
Foil and tie at the rim with string.
Lower the pudding into a pan, then fill with water until it comes halfway up the sides of the bowl. Steam for 6 hrs, topping up with water as necessary.
Let puddings cool before removing greaseproof paper and covering tightly with cling film and lid. Then store in a cool, dry cupboard.
To reheat, steam Christmas pudding for a further 1 hour, turn out and decorate with holly.
Can be served with extra-thick double cream or vanilla ice cream.
Wine to pair:
Anghelu Ruju Alghero Liquoroso Doc Sella & Mosca
A sweet garnet-red wine. The complex, concentrated nose has notes of fruit accompanied by strong hints of cinnamon and walnutskin, while the palate is warm, full and caressing. It is a sipping and dessert wine.
Production area: Alghero in Sardenia.
Grape variety: Cannonau dried in the sun for 15-20 days on reed racks raised off the ground and covered at night or in bad weather.
Winemaking: after drying slowly in the sun, the grapes are vinified traditionally with skin contact as the initial fermentation temperature of 18°C rises gradually to a maximum of 28°C. When two-thirds of the sugar has been transformed into alcohol, fermentation is blocked by chilling to obtain a wine with a residual sugar content of about 90 g/l and 12-13% vol. finished alcohol. The wine matures in steel until the spring after the harvest. More alcohol is then added to bring the actual alcohol content to about 19% vol. The wine then ages in large oak casks for at least five years.
Alcoholic content: 18% vol. with 10% natural residual sugar.
Serving temperature: 18-20°C.
Food pairing: on its own as a meditation wine or with desserts, also perfect with chocolate.