Couscous with mixed vegetables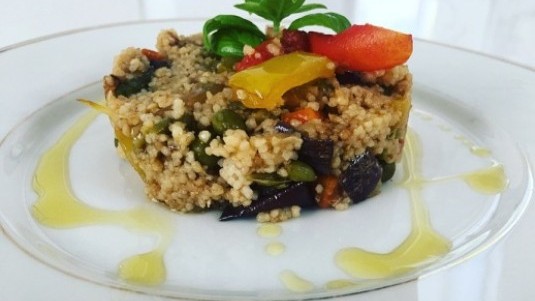 A tasty, vegetarian dish, even for non-vegetarians, to pair with Cusumano's Angimbè, a blend of Inzolia and Chardonnay.
There are an infinite number of ways to make couscous, steam-cooked crushed durum wheat semolina. It is an extraordinary food with a delicate flavor that brings together the history and culture of warm lands like Africa and Sicily. Here is a vegetarian version that is easy to prepare, colorful, fresh and light.
Ingredients for 4 people:
260g of pre-cooked couscous, 1 eggplant, 1 zucchini, 1 onion, 1 pepper, 1 potato, 3 cherry tomatoes, mint and basil leaves, extra-virgin olive oil, salt and dried capers.
Directions:
Cut all the vegetables into small cubes and sauté them separately in a trickle of olive oil. Mix them together in a bowl, salt to taste and keep aside for later.
Cook the couscous according to the directions on the package (usually five minutes after the water boils) and then separate the grains with a fork.
Add the couscous to the bowl with the mixed vegetables and mix in the tomatoes that have been cut into small cubes and the mint and basil leaves. Complete the preparation by adding in olive oil, salt and the washed capers.
Serve hot or cold and, if you like, with a teaspoon of turmeric.
Wine to pair:
Angimbè Terre Siciliane Igt Cusumano
Angimbè is one of the whites that symbolizes the winery. It has a bright, straw-yellow color with unmistakable aromas of pineapple, touches of white peach and a light note of fresh almond. The mouthfeel is saline and very pleasing and all things considered this is the quintessential summer wine with an amazing quality/price ratio.
Production area: Ficuzza Estate, in Piana degli Albanesi (PA), from vineyards located at 700-800 mt a.s.l..
Grape varieties: Insolia 70% (vineyard exposure to south-east), Chardonnay 30% (east).
Vineyards: training system is espallier at a density of 5000 plants per hectare. Average age of vines of Insolia 15 years, Chardonnay 11 years. Production 6000 kg of grapes per hectare.
Wine making: manual grape harvest, Chardonnay during August, Insolia during the first ten days of September. Vinification with cold pressing with skins for 12 hours at 8°C, pneumatic pressing, cold decanting, fermentation at 18-20°C, period in stainless steel containers on the fine lees for 4 months and successive fining in the bottle.