Black Thai Khao Nim rice with salmon confit, artichoke sauce and sesame seeds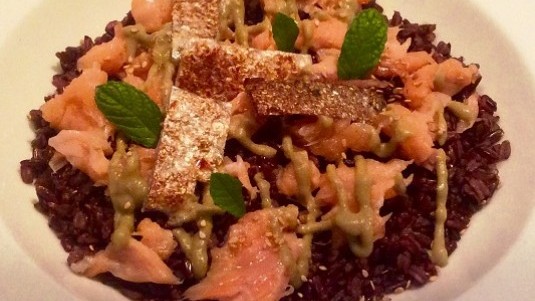 CHEF MATTEO GIUDICI
Ingredients for 4 people:
360g black Thai Khao Nim rice*, 1 bay leaf, 2 slices of fresh ginger, 600g of salmon steak, 600g soya seed oil, 4 artichokes, 1 celery stick, 1 carrot, 1 fresh spring onion, 2 mint leaves, 2 tablespoons of toasted sesame seeds, vegetable broth, salt and extra-virgin olive oil as needed.
For the marinade: 100g fine salt, 50g brown sugar, 5g fennel seeds, 10 basil leaves and the peel of 1 lemon.
Directions:
Scale and fillet the salmon into four pieces of equal size and weight. Put the fillets in cold carbonated water for a couple of minutes and then dry with paper towels. Make a rub by mixing together the salt and sugar with chopped basil, the yellow part of the lemon peel and fennel seeds. Rub the fish uniformly with the dry marinade and then place the fillets in a dish and seal it with plastic wrap. Place the fish in a refrigerator for an hour.
Wash and then boil the rice in abundant water with the bay leaf and ginger for around 35 minutes. Drain and season with a tablespoon of extra-virgin olive oil.
Heat the soya seed oil to 46°C and fry the salmon fillets until they begin to fall apart keeping the temperature of the oil constant by monitoring it with a cooking thermometer. Drain off the oil and dry the fillets on a paper towel to eliminate any excess oil. Remove the skin from the fish and fry it in a non-stick pan until it is crispy.
Clean the artichokes and then put then in a bowl with water and a little flour to keep them from browning.
Slice the artichokes julienne-style and fry them in extra-virgin olive oil with a brunoise of carrots, spring onion and celery until they are soft, adding vegetable broth when needed. Salt to taste and then bend everything in a mixer with vegetable broth, the mint leaves and a trickle of extra-virgin olive oil to create a soft sauce. Filter and salt to taste.
Make a bed of rice on each plate and put a fillet on top, allowing it to fall apart. Cover the fish with a little artichoke sauce and sprinkle it with the toasted sesame seeds. Garnish with the crispy fried fish skins and mint leaves. This dish is excellent both warm or cold.
*A prized variety that in ancient times was only consumed by emperors and was believed to have the power to prolong life. Today it is appreciated for its intense aroma, which recalls freshly baked bread, and soft and rounded flavor. The rice is particularly suited to be served with fish and white meats with spices and vegetables.
Wine to pair:
Soave Vintage Edition Soave Doc Bertani
Soave was one of the first Italian wines to be recognized as "typical and fine" already in 1931. Bertani's Soave was the image of this wine in the world. With the Soave Vintage the winery would like to make it in the original way but also as a modern Soave: the color is slightly more intense, the wine is fresh and crisp. Fine and elegant with aromatic notes of ripe fruit, peach and pear, with vegetal sensations reminiscent of sage, mint and elderflower.
Production area: the grapes for the Soave Vintage come from vineyards in the Soave hills. The very complex soils are of calcareous origin with a clay-loam texture.
Grape varieties: 100% Garganega. The vines are Pergola-Veronese trained, with a planting density of 3000 plants per hectare and are on average 40 years old.
Production system: part of the grapes, about 40%, are picked in the last ten days of September, crushed and fermented off the skins at 14°C. The rest of the grapes are carefully selected and picked at the end of October, crushed and fermented on the skins at a temperature of 20°C, for 15 days. Ageing takes place on the lees at the end of fermentation in concrete vats covered with glass bricks. This allows a slow and gradual ageing, thanks to the constant conditions of temperature and micro-oxygenation of this historic container.
Food pairing: a white with a great personality and complexity, it goes well with flavorsome white meats and intensely-flavored fish dishes such as creamed salted codfish.
Service temperature: 12°C.
THIS RECIPE IS OFFERED BY BERTANI