Oktoberfest 2017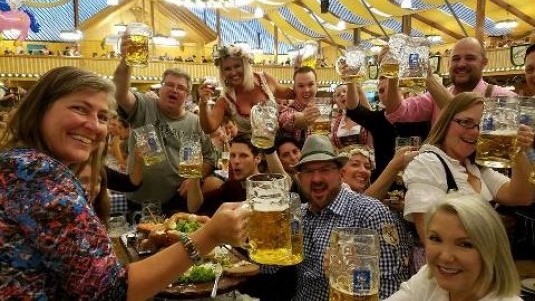 The 2017 edition of Munich's Oktoberfest (Wies'n in Bavarian) closed on October 3. For better or worse it is the most famous and attended beer event in the world.
After opening on September 16, this year's edition probably had over seven million visitors, quite a feat considering the fear of a terrorist attack for which security measures were bolstered significantly.
Before getting into the beers offered at the various pavilions, in reality the usual Märzen of Munich's six brewers (Augustiner, Hacker-Pschorr, Hofbräuhaus, Löwenbräu, Paulaner and Spaten) which have literally flooded this event for the past two centuries, it is important to remember this festival was invented by an Italian : the Trentino banker and entrepreneur Andrea Dall'Armi. He invented it on October 17, 1810 to celebrate the wedding between the Crown Prince Ludwig and the Princess Therese by offering at his expense food, beer and wine to the 40,000 people who participated.
From that year on, Oktoberfest has been staged almost uninterruptedly (except on 24 occasions) and is now is held in the area of Theresienwiese, not far from the hill where it originally took place, and represents the largest gatherings of the German people, as well as visitors, making it one of the biggest popular festivals in the world . Aside from beer, it is a celebration of carefreeness, tradition and a lot of folklore . The beer consumed, served in overflowing one-liter mugs , the famous Mass, is not a Lager but a Märzen, a low fermentation brew that is more distinct, colored and sometimes more alcoholic than a Lager. Augustiner is the oldest of Munich's six brewers, founded in 1328, along with Löwenbräu, founded in 1383 and both are among the oldest in Germany. Spaten, on the other hand, was founded in 1872 specifically for Oktoberfest while Hacker-Pschorr, which for centuries was Germany's biggest brewers, dates back to 1417, even if it was only reunited in 1970, and Hofbräuhaus, commonly known as HB, was founded in 1859 by none other William V, Duke of Bavaria. The Oktoberfest beer we have selected for you here is from Paulaner, the youngest of the city's six brewers , founded in 1634. It is perhaps the most suggestive of them all and this above all because of its recipe for its Märzen which, like all the brews from this authentic beer Maison, was created by the genius and skill of the legendary Brother Barnabas, Valentin Still, the eclectic master brewer at Paulaner in the second half of the 18th century.
Prodotti Correlati