Erik's Morellino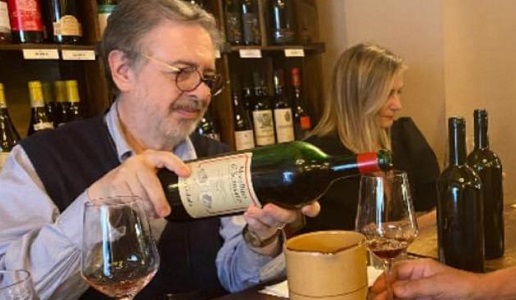 A meeting with the lead players of the era offered an occasion to open a magnum of Morellino di Scansano Cru Ciabatta 1985 from Erik Banti.
While it is true that Morellino di Scansano existed even before Erik Banti began to produce it in 1981, it was then a local wine that few knew about and was for the most part known for its sweet version, a kind of red Vin Santo that in Maremma they consume after meals together with cookies. There were some traditional wineries making it, like Sellari Franceschini, and you could get a bottle of Mantellassi. But that was about it and outside the province of Grossetto finding Morellino was anything but easy.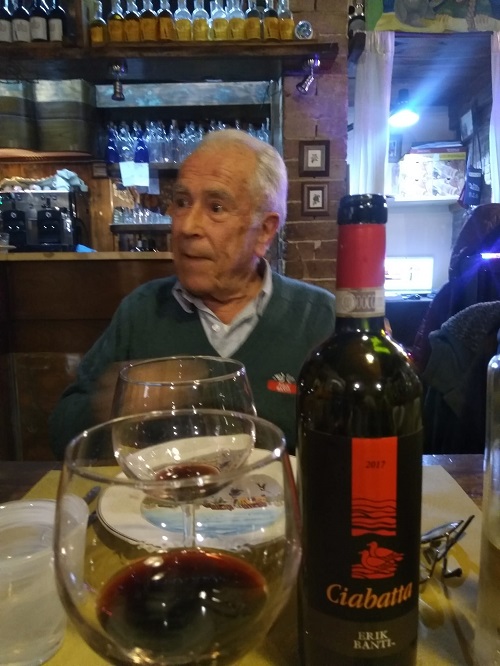 Then a certain person, Erik Banti, decided to make a life change and came on the scene. Before this he had a famous travel agency in Rome and had invented the first wine tours in Italy, working with Stefano Milioni, who was a gifted gourmet even then, and under the supervision of Luigi Veronelli. The agency was not doing well, in fact it folded soon after, and so Erik moved to a small town in Maremma, Montemerano, between Mancino and Saturnia. His family home was there and it also had vineyards that produced red wine they sold in bulk locally.
Erik Banti was a wine lover and he knew all the best wines in the world, having travelled extensively, and could not leave things as they were. The 1981 harvest was around the corner and so he got a new press, some barrels and reorganized the winery in order to produce his first Morellino. Once it was ready he bottled it and put on a designer label created by his friend and former collaborator Stefano Milioni, the beige one with two pigeons on it that is still used today. Then he started going to all the wine shops and the best restaurants in Rome trying to sell his wine, which he succeeded in doing having been their client in the past. He also remembered that his mother was Danish and had many friends in Denmark and so he began exporting his wine there.
Soon all the wine was sold and, more important, many people began to discover what Morellino di Scansano really was: a dry, red wine that was not expensive and was very pleasing to drink.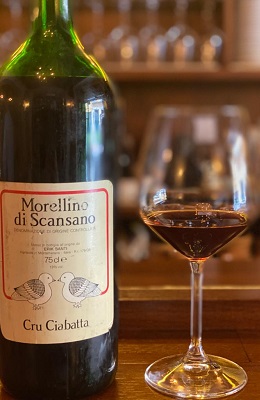 A few years later, he came across a particular vineyard, with 50-year-old vies, which everyone called La Ciabatta (The Slipper) because of its shape. He began to produce a Super Morellino from its grapes, using newer barrels, and this became Cru Ciabatta the first vintage of which was 1985. Now, I still had a magnum of that wine that Erik gave me after, in 1987, Gambero Rosso assigned it its top and one of the very first "three glasses" rating.
Milioni today lives abroad but happened to be in Rome and I miraculously got him together with Erik, who now lives in Saturnia, and we finally opened that bottle at Il Goccetto, a wine shop that was one of the very first to buy the wine. I was afraid it might have gone off but instead it turned out to be one of the best wines I've tasted this year. It was intact, nicely upheld by its acidity, with aromas that preserved the fruity scents and was unexpectedly youthful. A very great Morellino and a very great wine.
And our stories and memories were even better drinking it.
Related Products