Grattamacco presents Osteria Magona in Bolgheri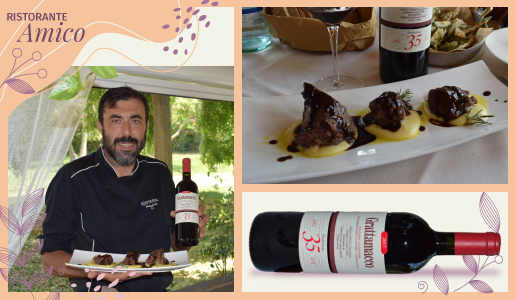 Wineries embrace restaurants. For the column Ristorante Amico, a wine producer presents one of his favorite restaurants, which proposes a recipe to go with one of his wines.
The restaurant Osteria Magona in Bolgheri, aka the best-grilled meat!
An adventure that started in 2004 in the center of Bolgheri and today moved to the typical Tuscan style Casale, the Vallone dei Messi, on the famous "Strada del Vino", Bolgheri wine tour.
Here, in this renowned area for the production of excellent wines, chef Omar Barsacchi, together with his family, gave birth to a unique restaurant where the main star is the Meat, in Tuscan dialect "la Ciccia"!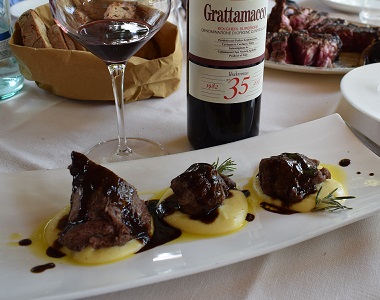 The recipe:
Braised beef cheeks with Grattamacco wine, potatoes puree and meat essence
Ingredients for 4 pax:
3 lb of Beef cheeks, Celery, Onion, Garlic, 1 cup of Grattamacco Bolgheri Superiore red wine, Salt, Black pepper
For potatoes purée: 3 lb of Potatoes, 1 cup of Milk, Butter, ¾ oz of Parmigiano Reggiano cheese
Directions:
Trim the fat off the meat, brown in a pan and simmer with Grattamacco Bolgheri Superiore until reduced.
Add salt and pepper to taste, add water and slowly cook for 3 hours at medium heat.
For the meat essence, take some bones and roast them in oven with celery, garlic and onions.
Add some water and reduce to reach the perfect consistency.
Prepare the mashed potatoes by boiling them in cold water, then pass them to the potato masher and pass them in the casserole with butter, milk and complete with Parmigiano Reggiano cheese.
Serve the cheek with potatoes purée.

Wine to pair:
Bolgheri Superiore 2017 Grattamacco
Intense and bright ruby red color with violet hues. Austere and elegant nose: floral, fruity and with a subtle spicy scent. Intense and gourmand taste showing wonderful tannins with great depth leading to a very long finish. (Tasting note by Stefania Vinciguerra)
Production area: the DOC area of Bolgheri on the Tuscan coast, from vineyards located between 100 and 200 meters above sea level and with soils characterized by sandstone and clay mixed with calcareous marly flysch. The climate is Mediterranean temperate with frequent sea breezes.
Grape varieties: 65% Cabernet Sauvignon, 20% Merlot and 15% Sangiovese.
Harvest: hand picking harvest and carefully selection in 25 years old vineyards.
Processing: the spontaneous fermentation takes place in open truncated conical wooden vats with gentle and repeated manual punching down, which allows long maceration and the slow release of only the noble and completely ripe tannins. Aging is made in French oak barriques for 18 months and this wine was bottled on August 30, 2019.
The vintage: the 2017 vintage will certainly be remembered as the earliest ever, beginning with the first Merlot on August 17 and ending on September 21 with the last Cabernet Sauvignon. A providential help for the ripening of the grapes arrived thanks to the rains that fell during the first half of September, which allowed slowing down the harvest and picking the remaining grapes calmly.
Alcohol content: 14.5% vol.
Serving temperature: 16-18°C.
Suggested gastronomic pairings: it goes perfectly with local preparations based on wild boar, game, with wet braised red meat, excellent with hard cheeses of medium seasoning.
Production: 50.000 bottles.
Grattamacco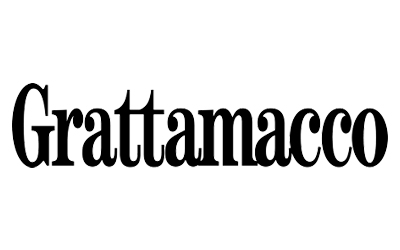 COLLEMASSARI S.p.A. Società Agricola
Owner Maria Iris Tipa Bertarelli e Claudio Tipa
Località Lungagnano, 129 - 57022 Castagneto Carducci (LI)
Tel + 39 0565 765069 - Fax +39 0565 763217
https://www.collemassariwines.it/estates/grattamacco/
grattamacco@collemassari.it
Year of foundation : 1977
Total bottles produiced:85.000
Direct sale
Open visits: Reservation needed
Hectares of viineyards:13
Certified organic viticolture
Olive oil production
Osteria Magona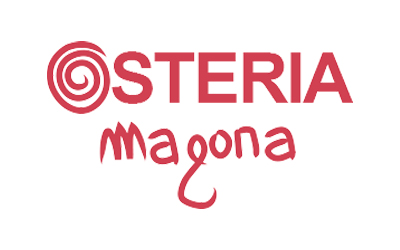 S.P. 16b Via Bolgherese
Loc. Vallone dei Messi 199 – 57022 Bolgheri (LI)
Tel. +39 0565.762173
https://www.osteriamagona.com/en/home-eng/
info@osteriamagona.com
Opening hours:
Kitchen non-stop from Tuesday to Sunday
Lunch 12 am – 2:30 pm
Afternoon Break with Ribolitta, cold cuts, cheeses and grilled meat 3:30 pm – 5:30 pm
Dinner 7:30 pm – 10:00 pm
Close on Monday
Related Products