Tenuta Sant'Isidoro presents Ambaradam Restaurant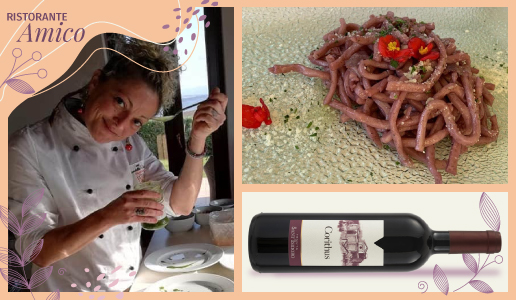 Wineries embrace restaurants. For this new column, Ristorante amico, a wine producer presents one of his favorite restaurants, which proposes a recipe to go with one of his wines.
The Ambaradam was born from a rib of a pub, a historic place in Tarquinia, managed for many years by the members Luciano, Donatella, Rocco. The intuition was to create a place where the customer could eat in a hospitable and peaceful environment, delighting him with a simple but at the same time refined cuisine.
The chef is Donatella Viscanti who combines with inspiration and determination traditional local recipes with seasonal products, thus providing diners with always-different dishes (the menu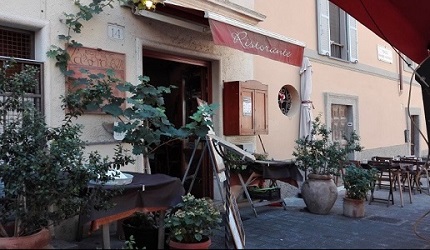 changes often). Thus you can find Acquacotta (typical Maremma dish) like Scamone stew with Chestnuts, Porchetta moray (when you can find it) like Coda alla Vaccinara, Fettuccine with Ferlenghi (typical mushrooms of the area) like In short, Acquacotta of Octopus, a series of ever-changing dishes that bring the guest back to always savor new things. novità. A world revolves around the kitchen: the girls who help Donatella will hear them laugh and sometimes sing until the beginning of the work, where concentration prevails and sometimes, even some anger, always diluted at the end of the evening by a good glass of wine.
In the diningroom you will find Luciano and Rocco with all the staff, always careful to meet the customer's needs, ready to provide information on both the dishes and the beauties and historical itineraries of Tarquinia. Passing friends, many, from the fisherman who brings fresh mullet to make carpaccio and bottarga, to the old man who brings mushrooms and chicory, to the winegrower who makes you taste a new wine, to the artist who talks about bucchero and nefro.
Ambaradam is a world, which includes Tarquinia, its peasant culture made of simple things, such as friendship and being together in a simple and genuine way.
The recipe:
Pici al Corithus
2 Servings:
400 g of Pici (Water and Flour Pasta), 100 g Pillow, 1/2 Tropea onion, 2 glasses of Corithus red's wine, 40 g Parmigiano Reggiano.
Directions:
Cut both the onion and the jowl bacon into thin slices and stir-fry over high heat for few minutes with a bit of EVO oil. Add the wine, bring the heat down and leave it to cook.
Meantime bring water to boil in a separate pot and cook the pasta for 4 minutes. Drain the pasta, add it to the pan and continue cooking in the wine sauce for 5 minutes.
Serve the pasta with parmesan shaves.
For those with sophisticated palate we recommend also Pecorino cheese instead of Parmigiano Reggiano.

Wine to pair:
Corithus Lazio Rosso Igt Tenuta Sant'Isidoro
Ruby red color. Scent of great intensity, notes of flowers, fruit and pepper. Dry taste, long and pleasant finish.
Production area: Tarquinia, Forca di Palma, in the province of Viterbo. Altitude of the vineyards 100 meters above sea level. Type of soil medium mixture - clayey. South-West exposure.
Grape varieties: Sangiovese 50%, Montepulciano 30%, Merlot 20%. Type of training spurred cordon. Planting density 4.000 plants/ha. Maximum yield 80 q.li/ha.
Harvest: Merlot mid-September, Sangiovese at the end of September, Montepulciano in October.
Wine making: maceration on the skins for 7 days with numerous fulling. Alcoholic fermentation in stainless steel. Malolactic fermentation carried out. Maturation in Allier and Nevers barriques for 6 months. Grape yield in wine 70%.
Serving temperature: 16°C.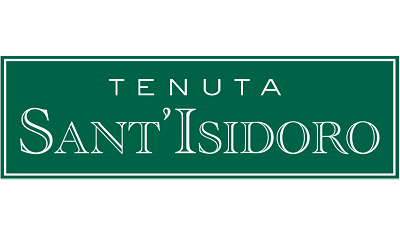 Tenuta S. Isidoro
Località Portaccia
01016 Tarquinia (VT)
Tel. / Fax +39 0766 869716
http: www.santisidoro.net
info@santisidoro.net
Ristorante Ambaradam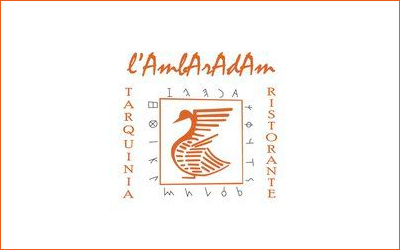 Piazza Giacomo Matteotti,14
01016 Tarquinia (VT)
Tel. +39 0766 857073
horus.ambaradam@alice.it
Opening hours: 12:15 - 14:30, 19:30 - 22:30
Team: Luciano Battista, Rocco Costa, Giuseppe Bondi, Liliana Colipca. Andrea Costa
Staff: La chef Donatella Viscanti, Faustina Viscanti, Emanuela Trebbi, Sami Yousef
Related Products