Badia di Morrona presents Locanda di Simone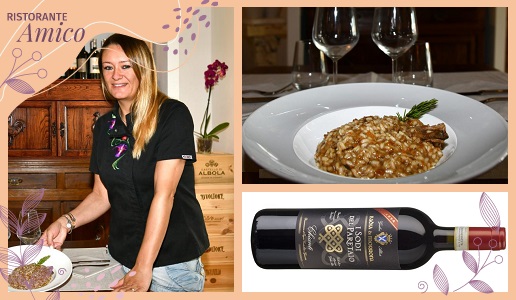 Wineries embrace restaurants. For the column "Ristorante Amico" (Friend-restaurant), a wine producer presents one of his favorite restaurants, which in return offers a recipe paired with one of his wines.
Locanda di Simone has been a fixture in the Versilia countryside for 11 years. Located on a closed road, far from the noise of auto traffic, surrounded by cultivated and uncultivated fields, and rustic houses and ruins, the last testimony of ancient agricultural activities.
Simone takes care of the service in the dining room and of the long wine list, while his wife Dona has the leading role in the kitchen. The menu is from land and sea and was created with passion and taste by Dona.
La Locanda, with its rustic style, can welcome you in the well-appointed, candlelit dining room or in the outside area where, on summer evenings, you can enjoy the ever more rare silence, interspersed with the chirping of crickets. For the enthusiast there is also the possibility to enjoy pizza and focaccia.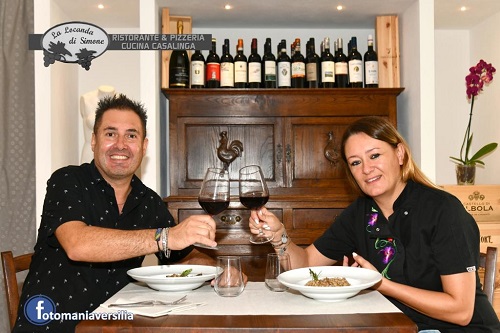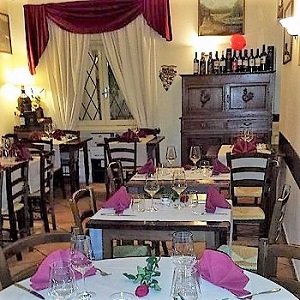 The proposed recipe:
Pigeon Risotto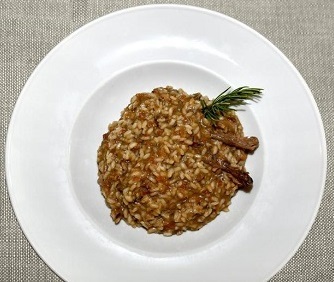 Ingredients for 4 people:
2 pigeons plucked and cleaned, 4 bay leaves, 3 celery ribs, 3 carrots, 2 red onions, 300 ml red wine, 200 ml extra-virgin olive oil, salt to taste, vegetable broth, 360 gr Carnaroli rice
Directions:
Wash the pigeons and split them in half along the spine.
Mince and mix the celery, carrots and onion. Spread the mix on a baking tray, place the pigeons on top and add the oil, salt and wine. Roast in a 180° oven for about 90 minutes.
When done remove and debone the pigeons then knife mince the meat and mix together with the vegetables and pan juices. Transfer to a pot and cook over low heat for about 5 minutes.
Toast the rice in a pan suitable for cooking risotto. Pour on the vegetable broth then add the prepared pigeon sauce. Cook for 15 minutes, stirring constantly.
At the end of cooking stir in a spoonful of parmesan cheese and serve.

Wine to pair:
I Sodi del Paretaio Chianti Riserva 2017 Badia di Morrona
A Chianti Riserva from Pisa hills, a fresh appellation area that guarantees good aromatic characteristics to wines. Ruby red color, a pleasurable freshness to the nose, with notes of red fruits. Soft and pleasant to the palate, with ripe tannins and harmonic taste.
Production area: Terricciola, in Pisa province.
Grape variety: 100% Sangiovese.
Winemaking system: selected grapes from the best vineyards and 18 months ageing in 26 hectoliters oak barrels.
Alcoholic content: 13.5% vol.
Serving temperature: 18°C.
Suggested food pairing: ideal with salami and other cuts, red meat and game, can be paired with pasta dishes of a certain complexity.
Related Products