Argiano presents the hotel-restaurant Il Giglio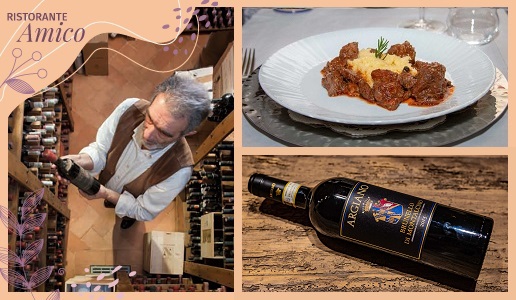 Wineries embrace restaurants. For the column "Ristorante Amico" (Friend-restaurant), a wine producer presents one of his favorite restaurants, which in turn proposes a recipe paired with one of his wines.
Il Giglio was born at the end of the 19th century as a post station, where travelers would take refreshment and horses would rest from the climb leading to Montalcino. At the beginning of 1900 Il Giglio was already a hotel-restaurant, the only one in the area, and in 1912 it was awarded at the Esposizioni Riunite of Viareggio as one of the best hotels in Tuscany. In its "Sala dei Fattori" the wealthy entrepreneurs met to do the most important business. There, sooner or later, the main characters of the '900 Montalcino passed, through wars and weddings.
At the beginning of the '90s, after a somewhat opaque period, the Machetti family intervened to restore the dignity of the past, with a radical restructuring. The credit goes to Mario and Anna, he with a passion for wine and she with a passion for cooking. Year after year, they rebuilt the fame of the place, first as a hotel, with 12 cozy rooms and an extraordinary view of the Crete and Siena, thalso as a restaurant, with a cuisine made of the ancient flavors that meet with the best local products of tradition.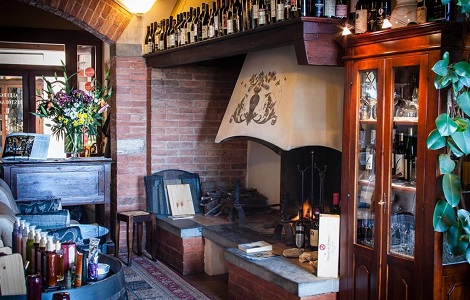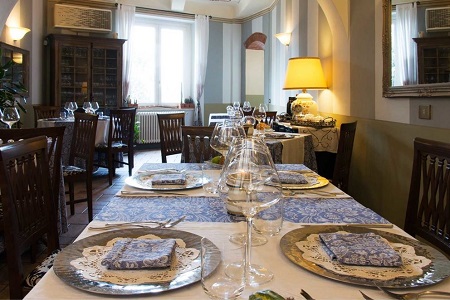 The wine list also reflects the place where you are and the protagonists are Rosso and Brunello di Montalcino. How could it be otherwise? His son Michele, by now a full-fledged manager of the business, has inherited Mario's passion.
The proposed recipe:
Wild boar "Scottiglia"
Ingredients for 4 people:
1,2 kg of wild boar meat, 1 liter of red wine for the marinade, bay leaves, juniper berries, 1 tablespoon of white flour, 1 red onion, 1 celery, 2 carrots, vegetable broth, Tuscan extra virgin olive oil, a few cloves of garlic, rosemary, salt and pepper grains to taste.
Directions:
Leave the wild boar to soak in a marinade of wine, juniper berries, bay leaves and peppercorns for about 24 hours.
Drain the wild boar, cut it into chunks and pass it in flour, then brown it in oil, garlic and rosemary. Add the vegetables already finely chopped.
Continue cooking over low heat adding the marinade a little at a time and from time to time let it evaporate slowly.
Serve hot accompanied by polenta.
Wine to pair:
Brunello di Montalcino 2015 Argiano
Dark ruby red color. Classic nose with notes of summer undergrowth, plums and ripe blackberries, a slight spicy background. Very firm palate showing a vibrant tannin and a finish that shows a warm aftertaste of classic notes. The wine embodies the power and style of the fantastic 2015 vintage.
Production area: vineyards located in the area of S. Angelo in Colle in the municipality of Montalcino, at an altitude between 280 and 310 meters a.s.l., with marl soil of ancient clays with a high concentration of limestone.
Grape variety: 100% Sangiovese from vineyards between 60 and 12 years of age, trained in spurred cordon and grown organically with a low production per hectare.
Harvest: end of September.
Vinification: Spontaneous fermentation for about 2 weeks in stainless steel tanks at controlled temperature. Maceration to extract color and mostly the strong aromatic profile. Malolactic fermentation in cement tanks. Aging of about 30 months in Slavonian oak barrels of different capacity (10/15/30/50 Hl). Bottling in April/May following the most propitious moon phases. Long aging in bottle.
Alcohol content: 14.16% vol.
Related Products