Caldaro/Kaltern presents Cantine Milano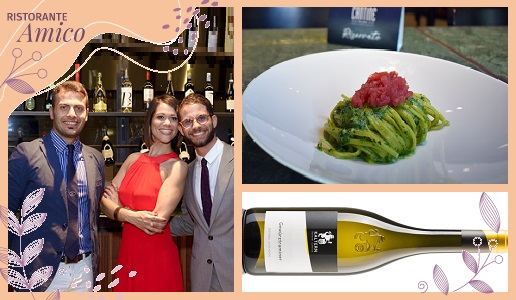 Wineries embrace restaurants. For the column "Ristorante Amico" (Friend-restaurant), a wine producer presents one of his favorite restaurants, which in return offers a recipe paired with one of his wines.
Cantine Milano is the result of a passion for wine and a love of Mediterranean cuisine in an elegant and refined location. It is like being in a real wine museum, but we are in Via Traù 1, in the heart of the Isola area, between the Porta Garibaldi business area and the beating heart of Milan's nightlife, in the new Cantine Milano Wine & Restaurant.
A wine shop with over 400 labels, a restaurant with a refined design: original furniture of high craftsmanship in Canaletto walnut wood, tables in Guatemalan green marble and raw black waxed iron, all to be photographed! Downstairs there is a private room, the Wine Secret Room with an imperial table and an open cellar where precious bottles are kept. Here is the first Italian Wine&Restaurant that reverses course and matches every type of wine with the right dish, a unique place that was missing in the city of Milan. The menu boasts an extraordinary and innovative combination of Mediterranean dishes and the wine that patronises them.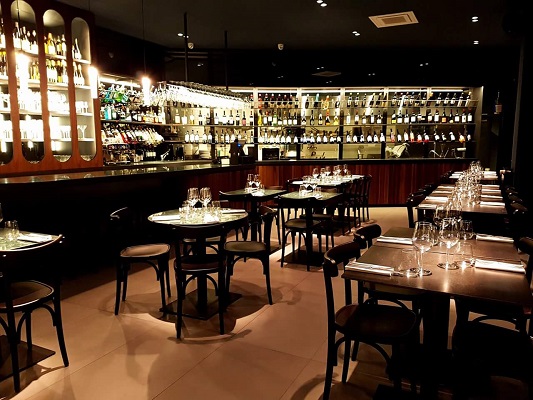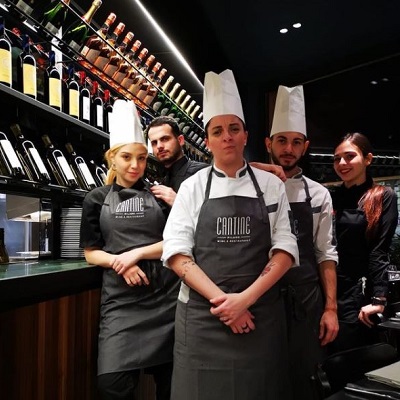 Welcoming and refined, Cantine Milano is a place that captures your attention and lets you experience a journey between wine and haute cuisine, under the banner of Made in Italy excellence. Open from the morning for the sale of selected bottles of wine, at midday with various types of business lunch and then in the evening for aperitifs, dinner and after dinner.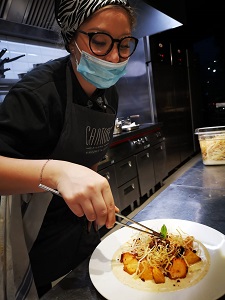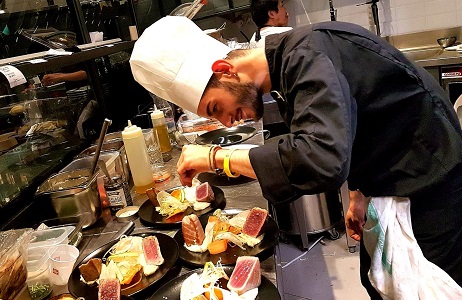 Cantine Milano is a concept born from the idea of three friends in their thirties who share a fascination for food and wine combinations, Italian style cuisine and the dream of creating something unique in the Milanese scene. Ambassadors of a style that combines product refinement and service, they take to the field to present a new way of tasting wine and spreading the richness of Mediterranean cuisine. Our mission, explains owner Angelo Altieri, is to "match the perfect dish to each wine with taste and elegance". In our opinion, continues our partner Gianni Viola, "Milan lacked a hospitable place where you can drink the right wine and at the same time enjoy a cuisine that respects the seasonality of the products and the territory". Let's not forget, concludes Daniela Altieri, that "Mediterranean cuisine, by definition, promotes social interaction and one of our fundamental values is conviviality, sharing. Our customers don't come to eat but to eat together and drink good wine together!"
The choice of excellent national and international wines, the use of quality ingredients, combined with the professionalism of all the staff and the elegance of the furnishings make Cantine Milano the trendy and cool place in Isola Milano.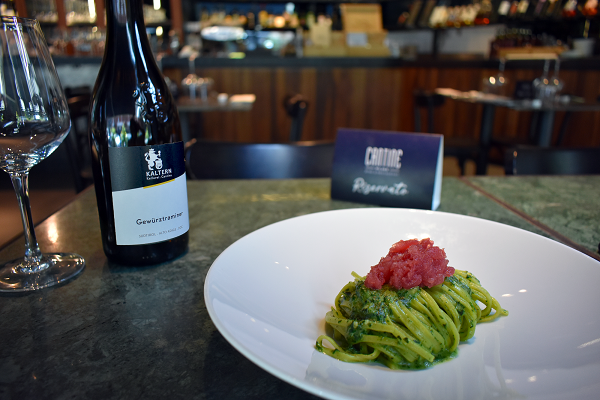 The proposed recipe:
Linguine with mint, basil and almond pesto and tuna tartare
Ingredients for 4 servings:
Mint 50 leaves; Basil 50 leaves; Almonds 60 grams; Parmigiano Reggiano cheese 100 grams; EVO Olive oil 70 ml; Salt and pepper; Garlic 1 clove; Linguine 320 grams; Fresh tuna 200 grams
Directions:
For the pesto: In a mortar or alternatively in a blender, place the cleaned basil and mint leaves with damp cloth, together with the almonds, salt and pepper and garlic. Start to crush or alternatively blend using the mixer.
Once you have an initial chop, add the oil and continue to blend until you obtain an emulsion. Finally add the Parmesan cheese until it is well-blended.
For the pasta: In a saucepan, bring salted water to the boil, add the linguine and cook, draining it al dente and keeping some of the cooking water.
In the meantime, chop the tuna very finely. Place the tuna in a bowl and season with a little salt, pepper and a drizzle of oil.
Once the pasta has been drained, start creaming the pasta in a pan. Add the pesto made before, than add the cooking water, until you get a creamy sauce.
Refine the dish: We recommend a deep plate, make a nest with the help of a fork and ladle. Lay it in the plate horizontally, use two spoons to make a quenelle with the tartare and place it on the nest. Refine with a few mint leaves.
Wine to pair:
Alto Adige Gewürztraminer 2020 Cantina Caldaro /Kellerei Kaltern
Bright, golden yellow. Intense aromas of rose blossoms, lychee, and pineapple. Full-bodied and creamy at first impression, unfolds its wide spectrum of fruit nuances on the palate, with a long, lingering, aromatic finish
Production area: South- and east-sloping vineyards at an altitude of 350 – 450 meters above sea level. Loamy, chalky gravel, heat-retaining and well-drained soils.
Grape variety: Gewürzrtraminer 100%, age of vines 6-21 years. The vine training system is Guyot and pergola. The final yield is 60 hl/ha.
Grape harvest: late harvesting of particularly ripe and perfectly healthy grapes.
Vinification: destemming of late-harvested, but still perfectly sound grapes; 12-hour cold maceration (10°C), after which the grapes were pressed and underwent natural clarification; fermentation at a controlled temperature of 18-20 °C; three-month ageing on the fine lees in stainless steel.
Vintage: A relatively mild winter was followed by a dry March and a dry and warm April, and flowering set in somewhat earlier than usual. There were no long heatwaves in the summer. In spite of this, the head start in the vegetation cycle became shorter and shorter up to the harvest. The first grapes were harvested at the beginning of September, with the last load reaching the winery on October 9. The white wines of the 2020 vintage present with an appealing acidity; the reds are impressive for their elegance and finesse.
Alcohol content: 14% vol.
Age-ability: 2021 - 2024
Serving Temperature: 11-13°C.
Suggested food pairings: This wine pairs well with fish appetizers, paté, gooseliver, and can also play a starring role as an aperitif.
Related Products