Tenuta di Artimino presents Oyster Barba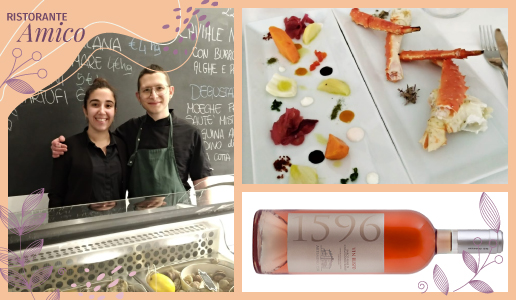 Wineries embrace restaurants. For the column "Ristorante Amico" (Friend-restaurant), a wine producer presents one of his favorite restaurants, which in return offers a recipe paired with one of his wines.
Passion for cooking, research and the exaltation of authentic flavors led Nicholas Barba and Erika Cassinadri to create the first Oyster hub in Modena.
With an important study, they have selected the best oysters in the world bringing them to their Oyster Bar. But they didn't stop here, in fact they offer a selection of pure crudités prepared on sight with finesse and simplicity.
The culinary tradition learned from their mother is a key element of the restaurant.
Nicholas, Morena, Laura, Valeria and Erica will welcome you with a fresh, elegant and youthful culinary proposal; all accompanied with not so common wines.

The proposed recipe: King crub
Ingredients:
King Crub, potato, carrot, fennel, caramelized onion, cuttlefish ink, dried caper leaf, yogurt sauce, yellow tomato sauce, crunchy pepper
Directions:
Stew the vegetables to get a double consistence: soft outside and crunchy at the core and season them lightly with a light pinzimonio of EVO oil and sea salt.
Place the veggies on a plate, the position is up to you, alternating yogurt sauce, yellow tomato sauce and crispy bell pepper. Use a few drops of cuttlefish ink.
Stew the King crub parts with more meat inside and add them to the dish and stew it and put together with vegetables.
"We selected this plate and this ingredients because it is so much intense of sea notes, perfectly match with this fruity rosé wine - says Nicholas -. This is a perfect mix of fleshiness, crunchiness, sweetness, sapidity and freshness; all enhanced by a great rosé wine, elegant and floral".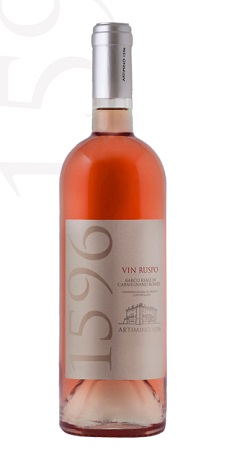 Wine to pair:
Vin Ruspo Barco Reale di Carmignano Rosato 2021 Tenuta di Artimino
Cherry pink color. Floral notes of hawthorn and rose combine with fruity hints of cherry and pomegranate. On the palate, great pleasantness and saltiness combined with an exemplary acidic freshness.
Production area: Carmignano (PO), from vineyards located at an average altitude of 135 meters, on silty-sandy soil, with a good percentage of clay.
Grape varieties: Sangiovese, Cabernet Sauvignon, Merlot cultivated with Guyot in the oldest vineyards, spurred cordon in the others. The yield per hectare is 70 quintals/ha.
Vinification: The must ferments in stainless steel tanks in contact with skins for 24/36 hours at 14°C. Then the skins are separated and the now pink must continues to ferment at low temperature for 14/16 days. Fermentation is followed by an élevage on lees for at least 3 months.
Alcohol content: 13.5% vol.
Serving temperature: 12-14°C.
Suggested food pairing: typical Tuscan dishes such as ribollita or pappa al pomodoro. Excellent also with cold cuts, white meats and in general as aperitif.
Related Products