Tenuta Freddano presents Ristorante Trippini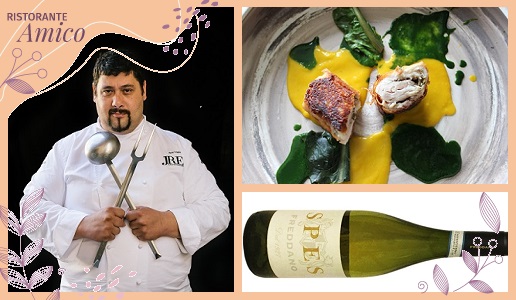 Wineries embrace restaurants. For the column "Ristorante Amico" (Friend-restaurant), a wine producer presents one of his favorite restaurants, which in return offers a recipe paired with one of his wines.
Opened in 1964 as a typical trattoria, the restaurant Trippini was owned and run by the married couple Giulia e Giuseppe, by the name Da Peppe Se Pappa. It was well known for grilled meat and homemade pasta but at the end of the 1980's, thanks to Adolfo Trippini, Paolo's father, the trattoria has been able to evolve into a modern restaurant.
Over the years, Ristorante Trippini has earned many authoritative and prestigious awards by major Italian restaurant guides. Trippini's family, with its three generations of chefs (1963 Giuseppe, 1973 Adolfo, 2006 Paolo), has created dishes which, in their simplicity, are able to leave an unforgettable memory in who tastes them.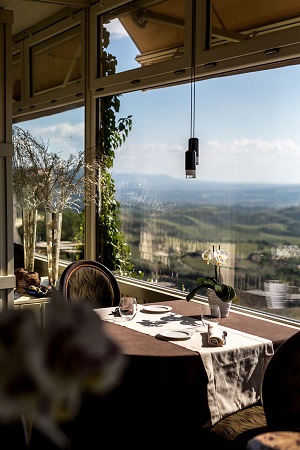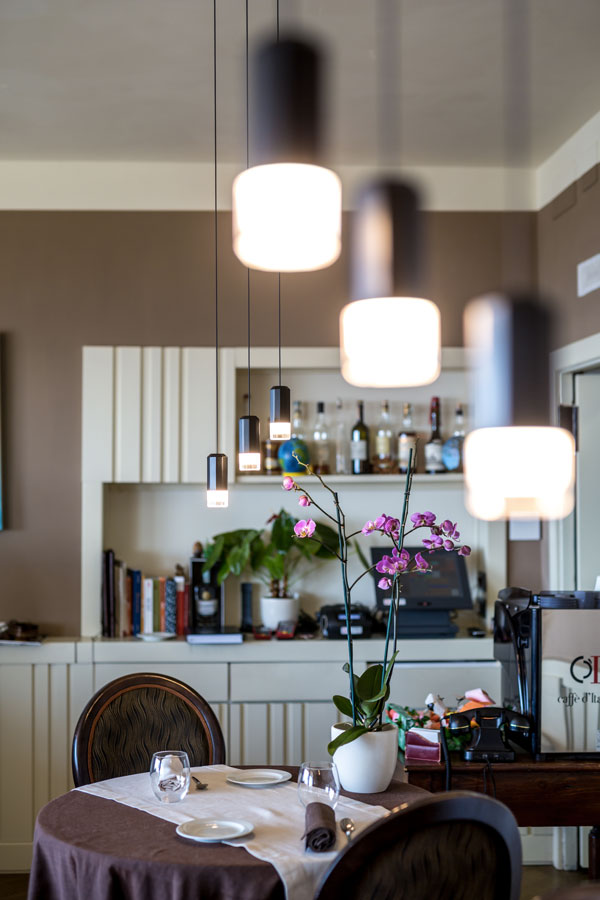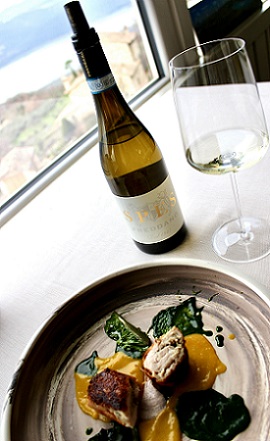 Paolo, the third generation, says that his love for cooking motivates him to dedicate all day to his job: he has grown up looking his father and his grandfather cooking. The chef chose to maintain the tastes of the tradition intact and thought on innovative culinary creations and so, without ever straying from a base of tradition, he made his restaurant the innovative, haute cuisine establishment it is today.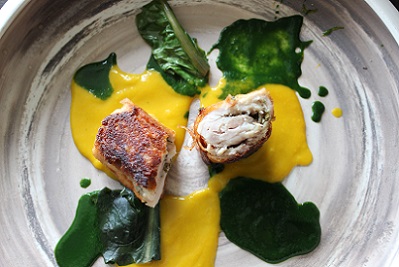 The proposed recipe:
Crispy rabbit, chard, butternut squash
Ingredients for 4 people:
Boned rabbit 500g, Rosemary, Sage, Wild fennel, Garlic clove, Sandwich bread 400g, Butternut squash 300g, Chard 500g
Directions:
Combine rosemary, sage, garlic and use it to season the rabbit. Roll the boneless rabbit tightly around itself lenghtwise. Wrap tightly with plastic wrap, place into a standard vacuum sealer bag and vacuum seal. Sous-vide rabbit roulade for 2 hours at 63°C.
Meanwhile wrap the butternut squash in foil and put it in the oven at 180°C for 1 hour. Peel the butternut squash and transfer it into a blender; blend until smooth adding water, EVO oil and salt.
Wash and clean the chard, saving some green leaves apart. Cook it in salted water and cool in cold water to preserve green color; transfer the chard into a blender and blend until smooth adding water, EVO oil and salt.
Slice the sandwich bread with slicer and wrap it around the cooked rabbit. Sous-vide again briefly to make sure the bread adhere well to rabbit.
Put the rabbit roulade into the pan until the bread become crispy and golden brown.
Serve with butternut squash and chard sauces and chard leaves lightly cooked.

Wine to pair:
Orvieto Classico Superiore Spes Tenuta di Freddano
Straw-yellow in color with golden reflections. Sweet and warm aromas on the nose, with floral broom and elder, fruity peach, pineapple and exotic fruit, hints of aromatic herbs (elderberry, Melissa and thyme). On the palate is enveloping, balanced and persistent, supported by good acidity and flavor. The sip is soft and responsive to the nose, while persistence is long and citrusy.
Production area: Umbria, Lake Corbara - Orvieto, at an altitude of 350 meters (1,500 feet) a.s.l. on medium mixture kind of soil, sedimentary and calcareous clay of marine.
Grape varieties: Grechetto, Malvasia and Procanico. Breeding system Guyot, planting density 1600 plants per hectare, average age of vines 20 years, yield 50 q/ha.
Harvest: second half of September run manually.
Vinification: alcoholic fermentation in stainless steel for 15-20 days at controlled temperature, with maceration on the skins. Refinement in stainless steel and then in bottle.
Alcohol content: 13,5% vol.
Serving temperature: 8-10°C.
Suggested pairings: rich first courses, also spicy, fish, shellfish and white meat.
Production: about 4000 bottles.
Organic and vegan wine made from grapes from organic farming certified by the control organism QC&I - International Services sas.
Related Products