Castello del Terriccio presents Osteria Magona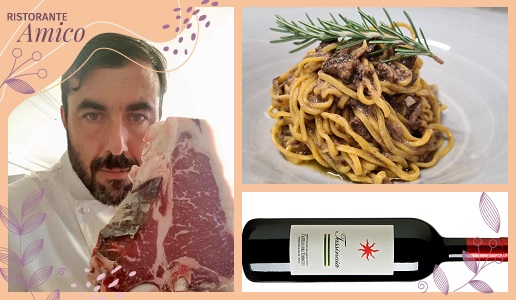 Wineries embrace restaurants. For the column "Ristorante Amico" (Friend-restaurant), a wine producer presents one of his favorite restaurants, which in return offers a recipe paired with one of his wines.
Osteria Magona in Bolgheri offers the best grilled meat in Bolgheri along the renowed "Strada del Vino".
The Chef Omar Barsacchi welcomes you in the cradle of Tuscany and Mediterranean cuisine, where the master is the selection of meats by Dario Cecchini, famous butcher from Panzano.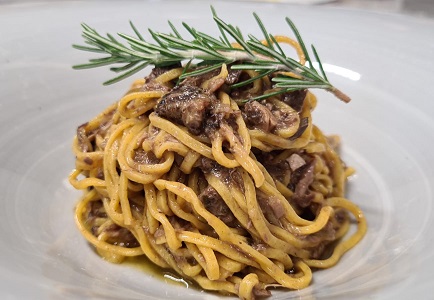 The proposed recipe:
Taglioloni of Verna wheat with wood pigeons and Tassinaia red wine
Ingredients:
Wood pigeons, Verna wheat Tagliolini, Tassinaia red wine, Extra virgin olive oil, Onion, Celery, Rosemary, Sage, Garlic, Pepper
Directions:
Tagliolini is an egg pasta home made with Verna wheat flour, an ancient wheat.
Brown the wood pigeons in a pan with extra virgin olive oil, onion, celery, rosemary, sage, garlic. After having browned everything, sprinkle with Tassinaia red wine and continue cooking for three hours, adding from time to time a ladle of water or meat broth.
When cooked, remove the flesh and beat with a knife, putting the pulp back into the cooking sauce.
Cook the Verna wheat tagliolini in plenty of salted water and drain them when "al dente". Finish cooking by tossing the pasta with the wood pigeon sauce and once served, add a drizzle of extra virgin olive oil and a sprinkle of pepper.

Wine to pair:
Tassinaia Toscana Rosso 2017 Castello del Terriccio
Ruby red color with violet hues. Pleasant and simple nose of fruit and pencil shaving. Very fresh palate, briny and flavorsome, with good freshness and fruity finish.
Production area: Pisan hills overlooking the sea on the Maremma coast between Castiglioncello and Bibbona. The land where the vineyards are located are characterized by various and composite morphologies with a strong presence of stones and fossils; the altitude is between 100 and 300 meters above sea level, with a South / South-West exposure.
Grape varieties: Cabernet Sauvignon and Merlot. Training system: spurred cordon, planting density: 5.600 vines/Ha for the old vineyards; 6.250 vines/Ha for the new vineyards.
Vintage 2017: Autumn 2016 started with rains and temperatures above the seasonal average, December and January were very cold with freezing temperatures during the day, accentuated by strong northern winds and no rain. Except for some sporadic rains, spring was characterized by a particularly dry climate. In mid-May the temperatures were often above seasonal average. Summer months were characterized by sunny days and hot temperatures. The veraison began in mid-July and the climatic trend anticipated the maturation of the grapes. The early harvesting that began at the end of August and lasted until the end of September. Healthy, crunchy and well-ripened grapes produced musts that are not excessively rich in structure, characterized by a good acidity which supports the higher degree of alcohol of this vintage.
Grape harvest: The grape picking began at the end of August for the Merlot and continued for the Cabernet Sauvignon until the end of September.
Vinification: Extremely soft pressing and destemming. Fermentation in steel vats at controlled temperature, with maceration of the grapes for about 9-12 days for Merlot and 12-15 days for Cabernet. During the fermentation process pumping over of the grapes and délestage. Maturation takes place in separate masses for each variety, in second and third passage French oak tonneaux for 16 months. After assemblage and bottling, the wine rests in bottle for 12 months before release.
Alcoholic content: 14.50% vol.
Serving temperature: 16-18°C.
Osteria Magona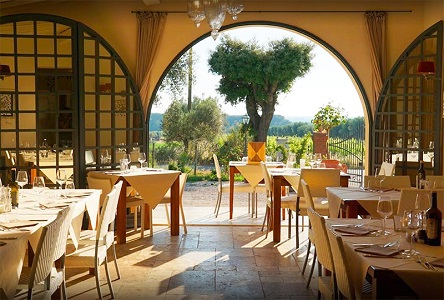 S.P. 16b Via Bolgherese
Loc. Vallone dei Messi 199 – 57022 Bolgheri (LI)
Tel. +39 0565.762173
https://www.osteriamagona.com/
info@osteriamagona.com
Orari di Apertura:
Cucina no stop dal martedi alla domenica
Pranzo 12:00 – 14:30
Merenda con Ribolitta, salumi, formaggi e carne alla griglia 15:30 – 17:30
Cena 19:30 – 22:00
Chiuso il lunedi
Related Products